Description of Business
We develops high value-added offices that simultaneously realize functionality, comfort, and safety. We endeavor to create spaces that are harmonized with the environment as well as being optimized for the town and people working in it. We are also developing CROSS OFFICE serviced offices where even a small number of people can receive high quality business spaces for operations.
Actual Cases
"ORIX Ueno 1-chome Building" , realizing office spaces which contribute to improve sustainable and intellectual productivity
ORIX Ueno 1-chome Building has improved environmental performance through the use of 100% renewable energy and the active planting of trees. In addition, it supports business in terms of safety and relief aspects with excellent earthquake-resistant structures and disaster preparedness.
Realizing a High Environmental Performance and Disaster Preparedness
All of the electricity used in the building is supplied by ORIX from virtually 100% renewable energy sources. With photovoltaic generation installed and rooftop planting introduced, we have acquired a platinum certification in the Core and Shell Development rating under the Leadership in Energy and Environmental Design (LEED-CS), an international standard for rating environmental performance, in addition to the S class in CASBEE (Comprehensive Assessment System for Built Environment Efficiency)" environmental assessments.
In addition to being 1.5 times more resistant to earthquakes than the new seismic building regulations, emergency generators and the stockpile of emergency supplies for tenants have been installed.
Supporting the Various Work Styles of Residents
The building is fully equipped with shower booths, bicycle parking, quick chargers for electric vehicles, and a rooftop garden to enable residents to work in a variety of working styles.
Office Building Development Results (examples)
CROSS OFFICE, Changing the Concept of Serviced Offices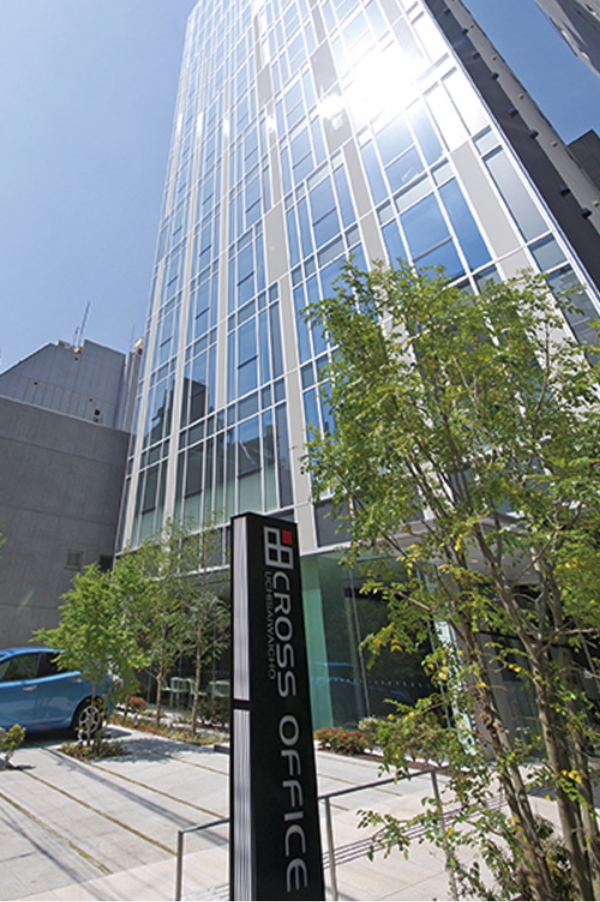 CROSS OFFICE aims to be a long-term partner for tenants, such as start-up companies, SMEs, and sole proprietors. To cope with diversifying work styles, we provide a comfortable business space that supports businesses from a variety of perspectives, including location, space, and facilities. CROSS OFFICE UCHISAIWAICHO is 1.5 times more earthquake-resistant than the new seismic building regulations and has emergency generators and other measures to ensure business continuity planning (BCP).
Supporting an Environment Where Tenants can Concentrate on Business
In order to address ever-changing work styles, we support business from various perspectives, such as location, space, and equipment, based on over 10 years of operational expertise. In addition to our coworking plan and dedicated desk plan for sole tenants, and our serviced office plan for staffs of 1–25, we also provide conference rooms, and reception service. Furthermore, coworking spaces and meeting rooms at every location can be used in addition to the contracted location.
Providing Office Spaces Attuned to the Area and Location
CROSS OFFICE provide added value that is tailored to the characteristics of each location.
Based on the concept of "business wellbeing," CROSS OFFICE HIBIYA offers lush green spaces where one can switch on and off from work. CROSS OFFICE ROPPONGI offers an imaginative shared space decorated with art.
CROSS OFFICE List of Locations
Other Information on Real Estate Investment and Development Business