Description of Business
DAIKYO and ANABUKI CONSTRUCTION are deploying a total business encompassing all aspects from planning to sales and after-sales services for condominiums and detached housing in major cities throughout Japan. We also offer the Lions Mansion, Surpass Mansion, ALION TERRACE, and Surpass Town series.
Lions Mansion
DAIKYO, which manages Lions Mansion condominiums, has supplied over approximately 6,400 condominium buildings nationwide since their first sale of Lions Mansion Akasaka in 1968. DAIKYO responds to changes in lifestyles or life stages of each consumer, takes on innovative challenges, and offers condominiums that respond to the social needs for safety, security and comfort, environmental considerations, and coexistence with regional communities.
Product Planning which Responds to Social Needs
From the period of high economic growth to the present, DAIKYO has been the first in the business to adopt what are now industry standards, such as auto-locking systems, delivery boxes, and Internet accesses for collective housing. This has been in response to the "life style" and the "life stage change" in each era. DAIKYO has also been actively involved in product planning that takes advantage of customer feedback, developing its own housing equipment including kitchens and washbasin.
Commitment to Buildings
DAIKYO has been ahead of the industry in obtaining a housing quality assessment at every new Lions Mansion condominium since October 2000, when the operation of the housing performance evaluation program began. DAIKYO is also actively promoting the creation of environmentally friendly homes, aiming to realize comfortable and healthy living and a sustainable society, through adopting a variety of eco-friendly ideas. This includes the introduction of solar power generation and LED lighting, wall greening, and designs that utilize the power of nature to conserve energy.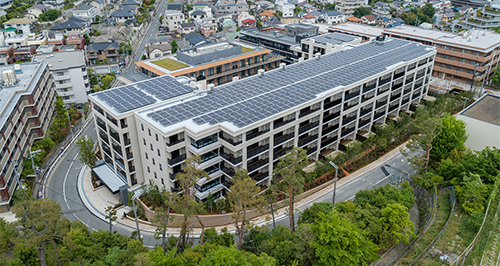 Lions Ashiya Granfort (Ashiya City, Hyogo) is Japan's first condominium certified as Nearly ZEH-M* to become a pioneer in the introduction of ZEH in collective housing. The property reduces primary energy consumption by 80% or more through energy conservation with higher thermal insulating performance and a next-generation household fuel cell co-generation system (ENE-FARM), along with energy creation by solar panels. The property also incorporates the power of nature and advanced technology as adopting SONA-L SYSTEM that enables lives to be sustained for seven days or more even if the electricity, water, and gas infrastructure is disrupted, as well as Lions Passive Design, a unique passive design that efficiently allows the entry of wind.
A condominium (or mansion, as called in Japan) that has achieved a reduction of 75% or more in primary energy consumption through energy savings and energy creation.
Surpass Mansion
ANABUKI CONSTRUCTION, which manages Surpass Mansion condominiums, has developed over 1,400 condominium buildings of the Surpass series in 46 prefectures, as a condominium supplier with two aspects. These are advanced technology and its network as a general contractor, as well as excellent planning and proposal capabilities as a developer. ANABUKI CONSTRUCTION has an integrated system for creating residences, from site acquisition to design, construction, sales, management, and after-sales service, which enables the supply of condominiums that satisfy customers in terms of both quality and price.
In-House Integration from Site Acquisition to After-Sales Service
ANABUKI CONSTRUCTION is one of the few companies in Japan with a business model that combines general contractor and developer functions. It is committed to creating homes with unique designs and construction that other companies do not offer. High quality, safe and comfortable living spaces are provided through total production from site procurement to design and after-sales service.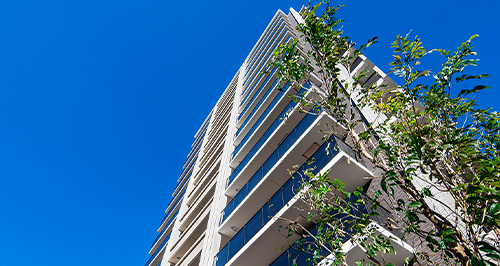 Community-Based Business Development
ANABUKI CONSTRUCTION has developed a business rooted in the local communities, mainly in western Japan, since the first completion of Surpass series in Fukuoka City in 1978. ANABUKI CONSTRUCTION also has a track record of success in the Kanto area and has expanded its business areas into 46 prefectures across Japan while maintaining its community-based approach.
Development Results (examples)
Related Links
Other Information on Housing Development Business