Description of Business
Since 2004, we had been involved in a PFI*1 for Enoshima Aquarium with the Kanagawa Prefectural Government, and drawing on the experience and expertise gained through this, we currently operate two completely synthetic seawater inland type aquariums: KYOTO AQUARIUM and SUMIDA AQUARIUM.
1

A private finance initiative (PFI) is a method of operation led by the private sector, utilizing private-sector funds and expertise for a public facility, etc.
Aquariums that are like being in a local park, where visitors can spend their time
Our aim is for the aquariums to be like local parks where visitors can spend time relaxing by themselves or actively enjoy themselves with their families. Sofas and chairs are also provided throughout the facilities. Based on the aquarium communication concept of "growing to like even more by getting up close," we continue to hold exhibitions and programs where visitors can come into contact with living things and talk to aquarium keepers as well as further shorten the distances between visitors and those who visit with them. By hearing about the enchantment of the aquatic creatures and hints on how to better appreciate them from aquarium staff in their own words, our hope is that visitors can return home with memorable surprises and impressions from their visit. In 2020, both aquariums underwent their first major renovations since opening and a new jellyfish area was opened to the public. We are pursuing a variety of exhibition techniques and conveying information on the appeal and mysterious ecology of living creatures.
Using 100% Synthenic Seawater at Both Aquariums
KYOTO AQUARIUM is Japan's first large-scale, inland aquarium that uses 100% synthetic seawater. Both aquariums are located in the center of town: KYOTO AQUARIUM, approximately a 15-minute walk from JR Kyoto Station; and SUMIDA AQUARIUM, immediately adjacent the Tokyo Skytree Station on the Tobu Skytree Line. Since conveying seawater is difficult for aquariums located at a distance from the sea, both aquariums have installed highly efficient filtration systems. In addition to reducing CO2 emissions which would otherwise arise when transporting seawater by truck, the systems allow us achieve water tanks where aquatic creatures can live in comfort by maintaining a constant water quality throughout the year.
General Edutainment Facilities where Visitors can Learn while Having Fun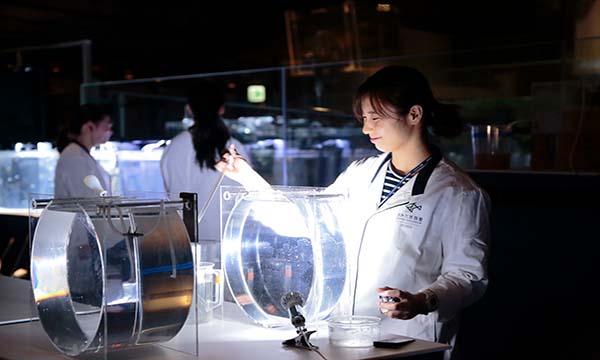 Based on the concept of an edutainment*2 facility, where visitors can interact with the aquatic life and learn while having fun, a varied array of programs and innovative exhibits are available to familiarize visitors with living creatures.
Rather than an aquarium that merely displays living creatures and specimens, through communication, our aquariums allow visitors to get up close to water and the creatures that live in that water, and to learn while having fun.
2

The term "edutainment" combines the words "education" and "entertainment."
Communication Concept of "Growing to like even more by getting up close."
Based on the communication concept of "growing to like even more by getting up close," events and programs are planned to make the animals and aquarium staff feel more familiar to visitors. Our efforts to communicate the individuality of the animals living at the aquarium as well as the attitudes of aquarium keepers, who are sincerely committed to them, are a hot topic on social media, and are an opportunity to appeal to people who have never visited an aquarium.
Availability of events and programs vary between periods.
Operated Facilities
Related Links
Other Information on Facility Operation Business