Description of business
CROSS OFFICE aims to be a long-term partner for tenants, such as start-up companies, SMEs and sole proprietors. Since launching Cross Office Shibuya in 2009, our network of serviced office operations in Tokyo has grown to seven locations (as of March 31, 2020). The diverse working styles of our tenants are able to be accommodated by our private offices, which offer silence, security and scalability, and our coworking spaces, which have been spatially designed taking account of location and the types of people that cluster in the area.
Supporting an environment where tenants can concentrate on business
In order to address ever-changing work styles, we support business from various perspectives, such as location, space and equipment, based on over 10 years of operational know-how. In addition to our coworking plan and dedicated desk plan for sole tenants and our service office plan for staffs of 1–25, we also provide conference rooms, a reception service and other environmental aspects so that tenants can stay focused on their business.
Consideration also given to business continuity plan (BCP)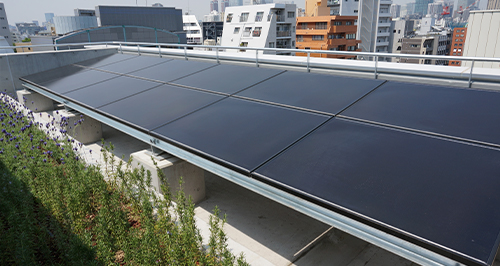 Rental spaces can be kept to a minimum by tenants sharing conference rooms and reception services. Security and disaster prevention measures are also provided on a shared basis, and provided services and facilities are kept to the essentials. At Cross Office Uchisaiwaicho, consideration has also been given to business continuity plan (BCP) by means of enhanced disaster prevention measures, such as seismic performance 1.5 times the new earthquake-resistant standards and installation of an emergency generator.
Furthermore, at Cross Office Uchisaiwaicho and Cross Office Mita, solar panels have also been installed, helping to power the lighting in common areas.
Providing office spaces attuned to the area and location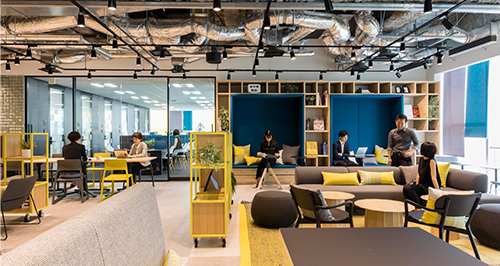 Each CROSS OFFICE has a different surrounding environment, different clusters of people, and different business environment needs. At Cross Office Roppongi for example, given the cluster of global companies and entrepreneurial individuals, and given its creative nature as a town where art events and so on are held, the office space has been designed on a concept of "art & digital." By providing added value that is attuned to each CROSS OFFICE, we offer an environment in which tenants can stay focused on their business, thereby helping them to grow their business.
Operational achievements
Related links
Other information on

Facility operation business

Related Content